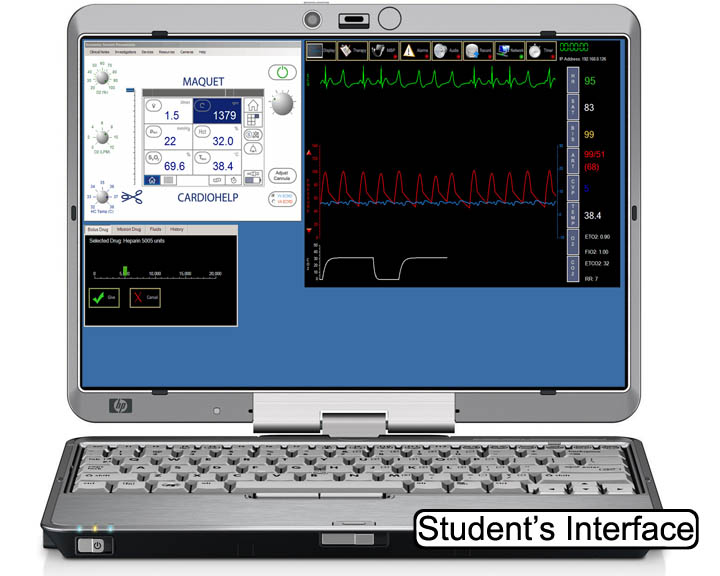 The MSE ECMO simulator is a screen-based implementation of a high-fidelity, medical simulation system - 'The Modular Simulation Environment' (MSE). It is intended for teaching the principles of VV and VA ECMO to those working in the fields of Intensive Care, Anaesthesia or Perfusion and can be used to simulate both veno-venous (VV) and veno-arterial (VA) ECMO in adults.
The simulator can be installed on computers running under the 32 or 64 bit versions of the Microsoft 'Windows XP', 'Vista' or 'Windows 7' operating systems. It has been designed for use by single users or small groups in a 'tutorial' setting and is intended to run on a 'Full HD' television display or a computer which has a screen resolution of at least 1920 * 1080 pixels.
The current version of the simulator (3.5.0) can be downloaded from here or from the 'Downloads' page.
A 'Smartphone' - controllable version (7.0) can be downloaded from
here
or from the
'Downloads'
page.
The simulator incorporates various MSE components which include a:
'Virtual' patient.
Centrifugal pump-based ECMO system.
Hollow-fibre oxygenator.
Physiological monitor.
Ventilator.
Defibrillator.
Data recording system.
Compendium of drugs and fluids which can be used to treat the 'virtual' patient.
Series of VV and VA ECMO tutorials.
'Scenario' database which can be used to provide a large variety of relevant clinical data to the trainee.
The patient consists of about 20 real-time models, which can be adjusted by a supervisor to reproduce a wide variety of clinical states. The trainee can then treat the patient using any of the available devices or drugs. (Refer to the 'Devices' section of the User Manual for a complete description of the currently available devices.)
In VV mode, the system can be used to illustrate the effect of:
Variation in blood flow through the oxygenator.
Variation in gas flow through the oxygenator
Heating or cooling of the patient.
Changing the position of the drainage cannula.
Insertion of a second drainage cannula.
Changing the size of the return cannula.
Changes in central venous pressure on venous drainage.
In VA mode, the system can be used to illustrate the effects of all of the above together with:
The impact of VA ECMO on systemic blood flow.
Differential hypoxaemia (circulation).
Back flow through the system.
The simulation can be remotely-controlled by a supervisor using a separate application which runs on a second PC, Netbook, PDA or mobile phone. Using this application, the supervisor is able to reproduce a wide variety of ECMO or patient crises including:
Oxygenator failure.
Inlet obstruction
Outlet obstruction.
Fresh gas disconnection.
Massive blood loss.
Changes in lung function.
Changes in cardiac function.
In all, the system comprises about 30 separate models which execute synchronously and in real-time. Refer to the 'Models' section of the User Manual for a complete description of the most important components.
D.A.Pybus
Sydney 2009.